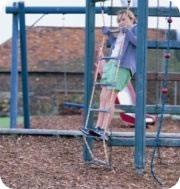 Rolawn Play Grade Bark
Rolawn Play Grade Bark is a quality, reddish brown, pine bark, which is ideal for use in children's play areas. It is tested to BSEN1177:2008 regarding impact absorption.
Specification: -
Safe
Tested in accordance with BSEN117:2008 re impact absorption
pH typically 4.5-6.5
Reddish-brown colour
Particle size 5-35mm
Free of chemical contamination
Max white wood (trunk) content by volume 7.5%
Weight to volume ratio (bulk density) is typically 225-375kg/m3
Rolawn Play Grade Bark
Key benefits: -
Ideal for children's play areas
Reduces need for irrigation and watering through reduced moisture loss
Extends plant life in periods of drought
Attractive uniform appearance
Reduces ongoing maintenance by inhibiting weed development
Reduces plant loss in cold weather
Free flowing, easy to barrow and rake out
Available in convenient 1 cubic m (1000 litre*) bulk bags.
For latest prices and to buy online, please click here
*Approximate volume when packed.